Monkeypox is a rare disease that is caused by infection with monkeypox virus.
Monkeypox virus belongs to the Orthopoxvirus genus in the Poxviridae family. Poxviruses are brick or oval-shaped viruses with large double- stranded DNA genomes. Poxviruses exist throughout the world and cause disease in humans and many other species.
Poxvirus infections typically result in the formation of lesions, skin nodules, or disseminated rash.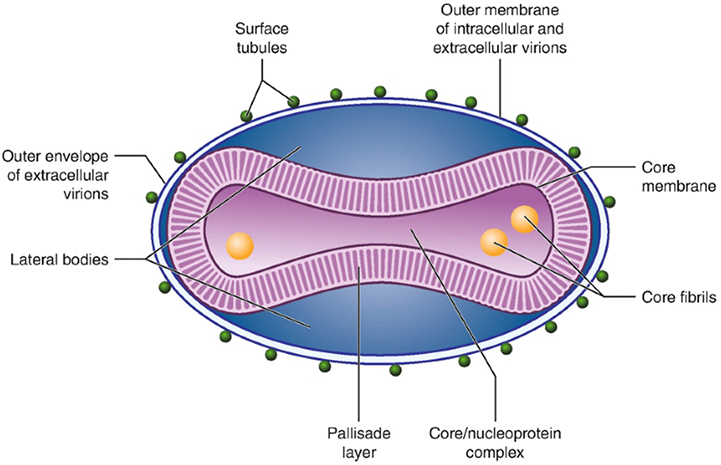 Antibodysystem successfully developed monkeypox virus series of core protein, antibody products, some targets that expressed by gene A33R, A35R, B21R
| | | |
| --- | --- | --- |
| Product name | Catalog No. | Host |
| Anti-Monkeypox virus/MPXV H3L Antibody (SAA0282) | RVV12701 | Mouse |
| Anti-Monkeypox virus/MPXV M1R Antibody (SAA0283) | RVV13301 | Mouse |
| Anti-Monkeypox virus/MPXV M1R Antibody (SAA0284) | RVV13302 | Mouse |
| Anti-Monkeypox virus/MPXV E8L Antibody (SAA0285) | RVV13201 | Mouse |
| Anti-Monkeypox virus/MPXV A29L Antibody (SAA0286) | RVV13401 | Mouse |
| Anti-Monkeypox virus/MPXV A35R Antibody (SAA0287) | RVV13101 | Mouse |
| Recombinant Monkeypox virus/MPXV A33R Protein, N-His | YVV12001 | E.coli |
| Recombinant Monkeypox virus/MPXV B5R Protein, N-His | YVV12101 | E.coli |
| Recombinant Monkeypox virus/MPXV A36R Protein, N-His | YVV12201 | E.coli |
| Recombinant Monkeypox virus/MPXV C19L Protein, N-His | YVV12301 | E.coli |
| Recombinant Monkeypox virus/MPXV D13L Protein, N-His | YVV12401 | E.coli |
| Recombinant Monkeypox virus/MPXV B2R/Hemagglutinin Protein, N-His | YVV12501 | E.coli |
| Recombinant Monkeypox virus/MPXV A44R Protein, N-GST & C-His | YVV12601 | E.coli |
| Recombinant Monkeypox virus/MPXV H3L Protein, N-His | YVV12701 | E.coli |
| Recombinant Monkeypox virus/MPXV C18L Protein, N-His | YVV12801 | E.coli |
| Recombinant Monkeypox virus/MPXV A26L Protein, N-GST & C-His | YVV12901 | E.coli |
| Recombinant Monkeypox virus/MPXV A27L Protein, N-His | YVV13001 | E.coli |
| Recombinant Monkeypox virus/MPXV A35R Protein, C-His | EVV13101 | CHO |
| Recombinant Monkeypox virus/MPXV E8L Protein, C-His | EVV13201 | CHO |
| Recombinant Monkeypox virus/MPXV M1R Protein, C-His | EVV13301 | CHO |
| Recombinant Monkeypox virus/MPXV A29L Protein, C-His | EVV13401 | CHO |
| Recombinant Monkeypox virus/MPXV B6R/SL-159 Protein, C-His | EVV13501 | CHO |
| Recombinant Monkeypox virus/MPXV D14L Protein, C-His | EVV13601 | CHO |
| Recombinant Monkeypox virus/MPXV H3L Protein, C-His | EVV12701 | CHO |
| Recombinant Monkeypox virus/MPXV A35R Protein, N-His | YVV13101 | E.coli |
| Recombinant Monkeypox virus/MPXV E8L Protein, N-His | YVV13201 | E.coli |
| Recombinant Monkeypox virus/MPXV M1R Protein, N-His | YVV13301 | E.coli |
| Recombinant Monkeypox virus/MPXV A29L Protein, N-His | YVV13401 | E.coli |
| Recombinant Monkeypox virus/MPXV B6R/SL-159 Protein, N-His | YVV13501 | E.coli |
| Recombinant Monkeypox virus/MPXV A14L Protein, N-GST & C-His | YVV13701 | E.coli |
| Recombinant Monkeypox virus/MPXV D14L Protein, N-His | YVV13601 | E.coli |